Buy a Year of the Axe Murderer workshirt or hoodie and receive a FREE bonus gift which could be a DVD, BluRay, Prints, t-shirts, stickers and much more !!! Design by Annabelle Lecter, all money goes to funding the website and Dinner & A Movie!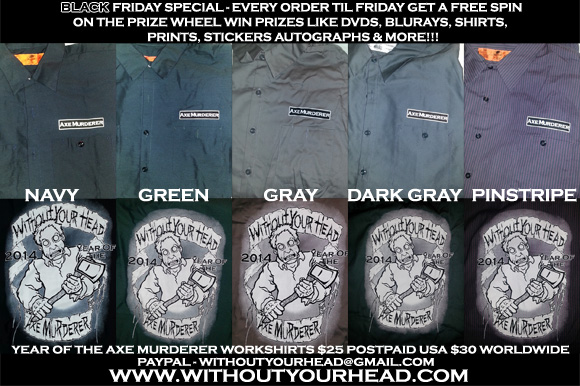 Navy (medium and XL), Green (XL only), Gray (XL and 2XL), Dark Gray (2XL, 3XL Long, 4XL long sleeve and 8XL) and Pinstripe (6XL only)


Get your Year of the Axe Murderer full zip front hoodie for only $30 plus shipping worldwide (when choosing location it shows total WITH shipping included). Designed by Annabelle Lecter! 100% of all profits go into funding WYH projects!