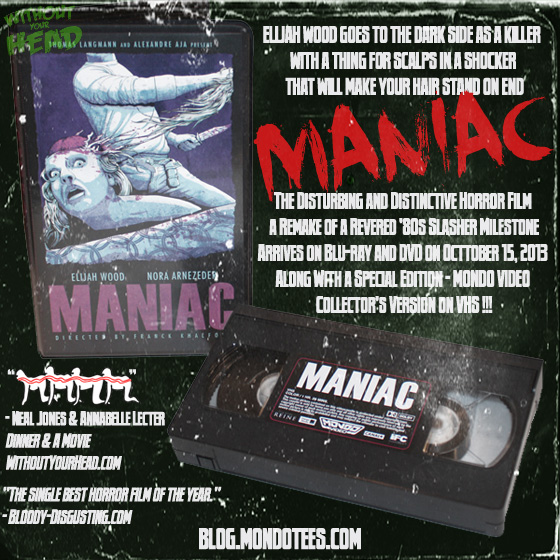 New York, NY - A disturbed young man who gives the mannequins in his story some very lifelike touches is the monster at the center of the shocker of the year. Elijah Wood, in a role unlike any he has ever undertaken, stars in MANIAC, the new macabre masterpiece from the creator of the hit thrillers High Tension and The Hills Have Eyes. The film slashes its way onto Blu-ray and DVD from IFC Films on October 15, 2013. MANIAC will also be released as a highly sought after collectible edition VHS through MONDO VIDEO. A total of 500 copies of this limited edition will be available in a clamshell case with a randomly inserted purple cassette.



In this 21st century Jack the Ripper story set in present-day Los Angeles, Frank (Elijah Wood, The Lord of the Rings) leads a deceptively peaceful life. To the outside world, he's a withdrawn and somewhat eccentric owner of a mannequin store. But his quiet façade masks an inner rage that forces him to brutally kill and scalp the women who get too close to him.



When a young artist named Anna (Nora Arnezeder, Safe House) appears one day at Frank's shop and asks for his help with her new exhibition, Frank develops an obsession with her that threatens to completely destroy his already fragile psyche. Soon the streets become unsafe for any woman after dark as this newly awakened maniac begins to stalk and kill.



A remake of William Lustig and Joe Spinell's 1980 cult classic of the same name, MANIAC, was written by Aja Alexandre, the screenwriter of The Hills Have Eyes, High Tension and Mirrors. The film is an intimate, visually daring, psychologically complex and profoundly horrific trip into the downward spiraling nightmare of a killer and his victims.



Special features on the BD/DVD release will include:

Commentary

Feature length making-of that covers all aspects of production

Deleted scenes

Alt poster gallery



Bloody-Disgusting.com hailed it as "the single best horror film of the year." "A shocker of a remake, equal parts stylish and scuzzy," raved Rob Nelson of Variety. "Each killing is suffused with a strangely surreal empathy for both murderer and victim that recalls Jonathan Demme's genre-redefining The Silence of the Lambs," said Keith Uhlich of Time Out New York. "This is down and dirty genre filmmaking," said The Hollywood Reporter's Meghan Lehmann. Nicholas Rapold, writing in The New York Times, called the film as "efficiently grisly."