SUPREME SUSPENSE STYLIST BRIAN DE PALMA RETURNS TO GLORIOUS FORM WITH HIS MOST ENGROSSING THRILLER IN YEARS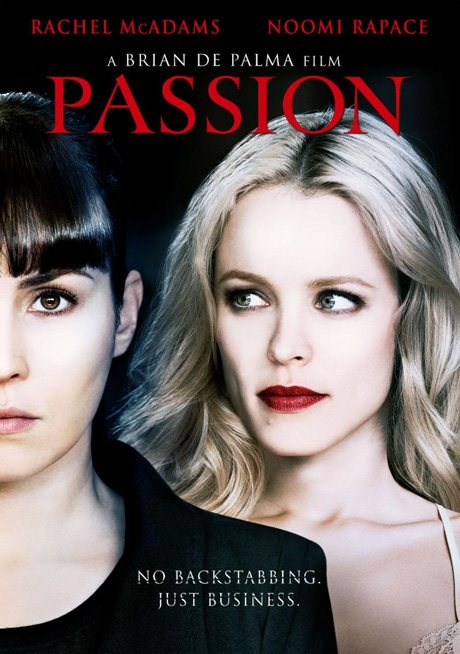 PASSION



A Daring Rachel McAdams and Noomi Rapace Star in the Acclaimed Erotic Puzzler That's Pure De Palma, Coming to Blu-ray and DVD on November 5, 2013





"Brian De Palma is one of the great seducers of the cinema, and he proves it with 'Passion,'

a spellbinding thriller." - Peter Sobczynski, RogerEbert.com



"A symphony of giddy terrror." - Ed Gonzalez, Slant magazine



New York, NY (October 10, 2013) - Two beautiful young corporate executives engage in a dangerous and tantalizing competition that will take a deeply personal and violent turn in PASSION, the wildly received new thriller from suspense master Brian De Palma. The film, starring Rachel McAdams (as she's never been seen before) and Noomi Rapace, arrives on high-definition Blu-ray and DVD on November 5, 2013, from eOne. The SRPs are, respectively, $29.98 and $24.98.



Forty years after his breakthrough thriller Sisters put him in the suspense/horror pantheon, Brian De Palma returns to the sleek, sly, seductive territory of Dressed to Kill and Body Double with PASSION, an erotic thriller fueled by sex, ambition and the murderous side of passion. Rachel McAdams and Noomi Rapace star as two female executives whose fierce competition to rise up the ranks is about to turn literally cutthroat.



Christine (McAdams, The Notebook, Sherlock Holmes) is a driven, devious executive at the sleek Berlin office of an international advertising agency. When her ambitious but outwardly shy subordinate Isabelle (Rapace, The Girl With the Dragon Tattoo trilogy, Prometheus) comes up with a brilliant ad campaign for a smartphone, Christine shamelessly takes credit for it, hoping it will bring her a promotion and a transfer to the New York office.



While appearing strangely forgiving, Isabelle in fact takes her elaborate revenge on her superior - which leads Christine to counterattack by setting up her own elaborate scheme to ultimately get her way. The teasing sexual interplay between the two women adds another layer of deception as De Palma employs all his stylistic flair to keep viewers on edge right up to the shocking climax.



Following his Iraq War drama Redacted and the period crime story The Black Dahlia, De Palma here returns to the carnal thriller genre he has made his own. And critics have praised PASSION accordingly.



Wrote Peter Sobczynski of RogerEbert.com: "The film as a whole is a sexy stunner that is De Palma's most satisfying work since Femme Fatale and proves once again that when it comes to manipulating and teasing audiences, he is still the reigning champion. ... Plays like a master class in the art of generating suspense." Ed Gonzalez of Slant magazine said, "PASSION is a serpentine, gorgeously orchestrated gathering of all of De Palma's pet themes and conceits, a symphony of giddy terror where people perpetually hide behind masks, both literal and figurative, hallucinations are nested in dreams, and images within images become tools of aggression, all set to a remarkable Pino Donaggio score."



Time Out New York's Keith Uhlich called De Palma's film "a welcome return to the carnal shockers that he does so well." "A gorgeous thriller from one of cinema's most exacting stylists," said Tomas Hachard of NPR.

The film, which De Palma adapted from Alain Corneau's 2010 French thriller Love Crime, was an Official Selection at the film festivals of Venice, Toronto and New York.



The Blu-ray and DVD from eOne both contain bonus features, including interviews with director De Palma and stars McAdams and Rapace.