Written and Directed by Ti West

Produced by Eli Roth

Starring Joe Swanberg, Amy Seimetz, AJ Bowen, Kate Lyn Sheil, Gene Jones and Kentucker Audley

From acclaimed writer/director Ti West (THE INNKEEPERS, THE HOUSE OF THE DEVIL) and master of horror Eli Roth (THE LAST EXORCISM, HOSTEL, CABIN FEVER), THE SACRAMENT follows two Vice Media correspondents as they set out to document their friend's journey to find his missing sister. They travel outside of the United States to an undisclosed location where they are welcomed into the world of "Eden Parish," a self-sustained rural utopia, comprised of nearly two hundred members. At the center of this small, religious, socialist community is a mysterious leader known only as "Father." As their friend reunites with his sister, it becomes apparent to the newcomers that this paradise may not be as it seems. What started as just another documentary shoot soon becomes a race to escape with their lives.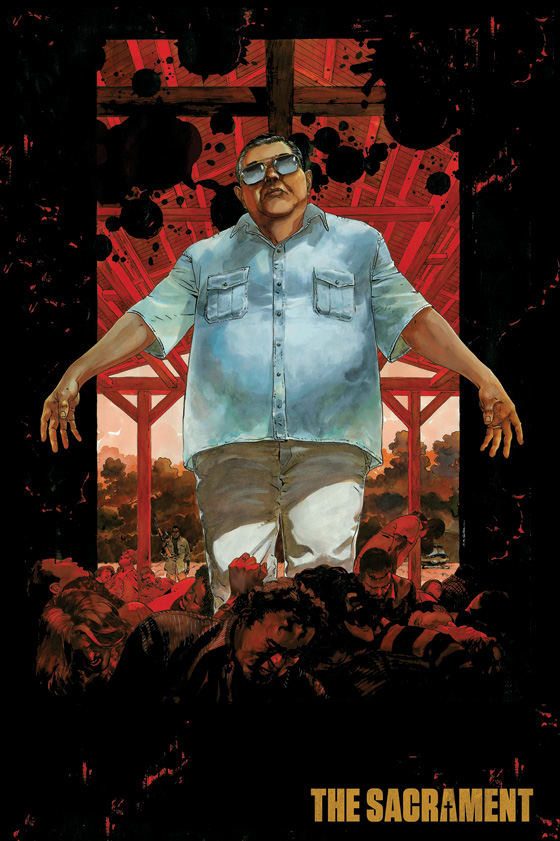 THE SACRAMENT stars Joe Swanberg (YOU'RE NEXT), AJ Bowen (THE HOUSE OF THE DEVIL), Kentucker Audley (SUN DON'T SHINE), Amy Seimetz (THE KILLING), and Gene Jones (NO COUNTRY FOR OLD MEN). The film is written, directed and edited by Ti West (THE HOUSE OF THE DEVIL, THE INNKEEPERS) and produced by Eli Roth (THE LAST EXORCISM, HOSTEL, CABIN FEVER), Jacob Jaffke (SLEEPWALK WITH ME), Peter Phok (STAKE LAND), Christopher Woodrow (BLOOD TIES), Molly Conners (KILLER JOE) and Eric Newman (CHILDREN OF MEN).

"Might very well be West's finest work to date." - Bloody Disgusting

"The ominous, pulsating drone of Bates' music, the increasing agitation of West's editing, and the raw, video-reporter edge of Eric Robbins' nervy camerawork all contribute to manipulate the atmosphere into one of engulfing dread in a film that gets under the skin and stays there." - The Hollywood Reporter

"This slow-burning investigation of unseemly goings-on at a rural Christian commune is frightening in any genre language." - Variety

"Solid and smart and well-calibrated." - HitFix

"Will be one of the more notable titles of the year." - Twitch

"It is a unique and startling tale that will haunt you for days after you've finished it, and boy does it whet your appetite for more from Mr West." - HorrorTalk



For more info:

Official Site: magnetreleasing.com/thesacrament

Official Facebook: www.facebook.com/thesacramentfilm


#SACRAMENTFILM