Jonathan Tiersten and The Ten Tiers




www.jonathantiersten.com

Our interview with Jonathan.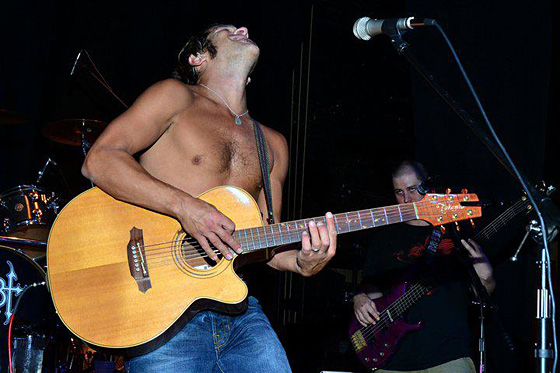 Bio from Facebook.

"About You Ask JONATHAN TIERSTEN what type of music he performs on his new EP, We'll See (Edward Records), and the Colorado-based singer/songwriter and actor quickly responds that it-s roots music with an edge. Tiersten has performed a variety of music over the years, but on We'll See, he offers an earthy blend of roots rock, folk-rock and adult alternative pop-rock that is at once contemporary and timeless.
"People I-ve never even met before have told me, You have this knack for writing songs that I could see myself listening to 20 years down the line,-" Tiersten explains. "I want to write songs that are like John Huston-s films, which hold up well over time and never become dated. I think that the more honest you are in what you write, the greater the odds are that what you write is going to be timeless. Honest emotion doesn-t have a half-life; neither should honest songwriting."
We'll See moves quickly into aggressive, hard-rocking territory on "In the Air," which is used as the theme song in the horror film The Perfect House and sounds like a cross between Tool and Cream. But "In the Air" is atypical of the EP on the whole, as Tiersten favors a much more rootsy and contemplative approach on "Sancta Caecelia," "Black Rain" and "Theodore."
"Vertigo," which boasts John Magnie of the Subdudes on accordion and electric Hammond B-3 organ, becomes increasingly intense as it progresses, and is as passionate as it is introspective. "Vertigo," like "Sancta Caecelia," "Black Rain" and "Theodore," is perfect for triple-A/adult album alternative radio formats.
"John added a bit more of that roots flavor to "Vertigo,-" Tiersten observes. ""It starts off where you think it-s just going to be this mellow thing, but it gains power all the way through. It just keeps ramping up."
Born in Queens and raised in New York City and Northern New Jersey, Tiersten has been involved in both music and acting since his teens. Tiersten, who studied French horn and guitar when he was growing up, was still a teenager when, in 1983, he played Ricky Thomas in Robert Hilzik-s cult horror film Sleepaway Camp. Tiersten went on to study acting at New York University-s prestigious Circle in the Square Theater School (where one of his classmates was future "Saturday Night Live" cast member Molly Shannon), and in 1987, he had a principal role in the Emmy-winning ABC after-school special "Seasonal Differences" (which also starred Uta Hagen, Melba Moore, Gabrielle Carteris and Frank Whaley). It was also in the late 1980s that Tiersten had a part on the NBC soap opera "Another World."
As a singer/songwriter, Tiersten made his presence felt on the Greenwich Village folk-rock/roots rock circuit in the late 1980s and early 1990s as one-half of the acoustic duo The Magic Box. But in 1991, Tiersten surprised his admirers by leaving the Big Apple and moving to Fort Collins, Colorado, where he opened a beer bar/live music venue called The Mountain Tap Tavern. Tiersten-s bar attracted its share of well known artists (including Dishwalla, David Gray and Victor Wooten), but he ended up selling it to
devote more time to his own music. His contributions to the Colorado music scene included everything from solo performances to AC/DC and Black Sabbath cover bands to the alternative rock outfit Bambi-s Apartment (which he co-led with guitarist/singer Micah Stone). Tiersten (whose first solo album, Heaven, was released in 1998) also has been a member of the alternative funk-rock band Gaphiltaphunk, and currently leads the band TEN TIERS, whose debut album, Don's Club Tavern, Part 1, was released in 2006.
Having spent the 1990s and early-to-mid 2000s concentrating on music, Tiersten returned to acting in a big way in 2008, when he reprised the role of Ricky Thomas in the Sleepaway Camp sequel Return to Sleepaway Camp. And 2010 proved to be an even busier year as an actor, thanks to major roles in two independent films: Redemption and The Perfect House.
Redemption is a psychological thriller that also stars George Loros (best known for his portrayal of Raymond "Buffalo Ray" Curto on the HBO series "The Sopranos"), Meredith Ostrum (known for her roles in Love Actually, Men Don't Lie and other movies) and veteran film/television actor Barry Primus. The Perfect House, meanwhile, stars Felissa Rose (the film-s co-producer), John Philbin and Monique Parent along with Tiersten. Rose and Tiersten Rose go way back; she played Angela Baker in both Sleepaway Camp and Return to Sleepaway Camp, and it was Rose who recommended Tiersten for The Perfect House.
2010 was a year of dark, edgy characters for Tiersten, who portrays a pimp in Redemption and a serial killer in The Perfect House. "Apparently, I-m everyone-s favorite bad guy now," jokes Tiersten, who explains that John Doesy (his character in The Perfect House) is an insane sociopath who sees the murders he commits not as crimes, but as artistic performances. In fact, Doesy keeps a woman hostage and makes her observe his crimes because he needs a "muse." Tiersten is preparing to reprise his The Perfect House role as the star of a full-length prequel centered around his character.
"John Doesy sees himself as a performance artist akin to Andy Kaufman, who thought his whole life was a performance," Tiersten notes. "My wife saw a clip of The Perfect House, and even she said, "You are absolutely terrifying in that role.-"
Tiersten, who recently wrote the score for the short film Demption (a crime drama starring David Krumholtz of the hit TV series "NUMB3RS"), is a triple threat: he can score films as well as produce and act in them. Tiersten, in fact, has been doing some work for the independent film company Brittany House Pictures, and recently was hired by its president, Anjul Nigam (Grey's Anatomy, Terminator Salvation) to help produce Good Ol' Boy (a film with a score from guitarist/composer Andy Summers of The Police) and also act and do soundtrack/score work on future projects. But Tiersten stresses that no matter how much acting he will do in the future, his music will never take a back seat.
"When I got back into acting," Tiersten asserts, "I realized how much that was an itch that needed to be scratched. I-m very passionate about my acting, but I don-t want to be perceived as an actor who became a musician. Music is always on my mind. Music is not what I do. It-s who I am.""