Marilyn Burns, horror icon from her portrayal of Sally Hardesty in the 1974 classic The Texas Chainsaw Massacre, has died.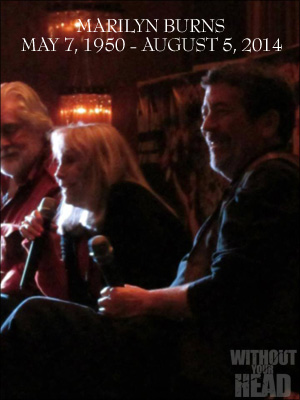 Marilyn had a lifelong love for acting beginning with a childhood interest in the arts. Normal childhood playfulness dressing up and pretend matured and she began acting in school plays as early as seventh grade. In high school she got a small role as a tour guide in a Robert Altman
(MASH, Popeye, Vincent & Theo)
film,
Brewster McCloud
(1970). A few years later while Marilyn was attending the University of Texas, she landed a role as Sarah in 1974 film, Sidney Lumet's
Lovin' Molly
. But due to negotiations for Blythe Danner to star in the title role of Molly, she was replaced by actress Susan Sarandon. Though she didn't get the part, she remained involved as a stand-in for Sarandon and actress Blythe Danner.
During her time at U Texas, Marilyn began serving on the film commission. After
Lovin' Molly
had passed by she learned that there was a local casting call for a new film,
The Texas Chainsaw Massacre
.
Marilyn's role as Sally is infamous in the world of horror, a film that turned the genre on it's head. It was revolutionary in style and subject, drawing in and dividing people over it's extremity. The longevity of it's impact is evidenced by arguments for the film as a respectable cinematic work versus merely a sick and depraved movie, arguments which continue on to this date forty years after it's original theatrical release. It's not doubted that this film absolutely would not have had it's power to shock or command respect without the talent of Marilyn in the lead role as lone survivor Sally.
After Massacre, her experiences with professional filmmaking gave her the opportunity to assist in the casting of George Roy Hill's
The Great Waldo Pepper
(1975). Marilyn had roles in several other films including Linda Kasabian in
Helter Skelter
(1976), and Faye in Tobe Hooper's
Eaten Alive
(1977).
A lifelong Texan, Marilyn became involved in local theater which she enjoyed for many years, often as a director herself. But when horror conventions became more popular, her attendance at
various locations allowed her fan base around the country opportunity to see her and talk with her personally.
Marilyn became known throughout the horror community as a true pleasure to meet. Her graceful way, kindness, and quick wit made her a favorite among her fans and peers alike. Her long lasting friendships with costars and the admiration and respect from others in film showed that she was not only a talented actress but an exceptional and well loved woman.
Teri McMinn, her dear friend and costar as Pam in Texas Chainsaw, had this to say shortly after the confirmation of Marilyn's death
"I loved Marilyn like a sister. We were the best of friends. I know you all loved her, too, not just for her great talent and wisdom, but for her heart, her great big wonderful heart. She was one in a million, a very special soul. This is going to be difficult for all of us who knew her and were close to her... lucky enough to call her our friend. She will be terribly missed around the world."
For those of us fortunate enough to have met her, however brief, the impression of her good nature, intelligence, and charm will certainly remain with us.
No one can deny that Marilyn made her mark. She will be remembered.
Rest in peace, Marilyn
Annabelle Lecter, on behalf of Without Your Head
Marilyn Burns passed in her sleep on August 5th, 2014, one month after her 64th birthday July 5th.