Glasgow-based company Shining Example Films and award-winning writer/director Andy Stewart (Dysmorphia, Split, Ink) are delighted to announce that pre-production has begun on their final short horror film, "Redacted".

"Redacted" will star Laurence R. Harvey (The Human Centipede 2 & 3, The Editor) and Tristan Risk (American Mary, The Editor, The ABC's of Death).

Writer/Director Andy Stewart had the following to say, "It's a slightly different direction for me this time, a brief step away from body horror and into sci-fi or fantasy".

"I am absolutely over the moon to be working with both Tristan and Laurence on this project. Having Laurence on-board is hugely exciting and a little daunting to me. I cannot wait to see what he does with the role. Tristan and I have talked about working together for a while now so I'm very happy to be bringing her to Scotland for this".

"Redacted" will see Stewart re-teaming with BAFTA-winning cinematographer Alan C. McLaughlin while the Special Make-Up Effects will again be designed by award-winning FX artist Grant Mason (Hardware, Sleepy Hollow, Bride of Chucky, Clive Barker's Nightbreed) who also created the make-up and gore effects on Split and Ink.

The film will be produced by Gordon Holliday, Remo Catani and Austin Hayden. Filming is set to begin in June 2015, with a crowdfunding campaign set to launch in the next week.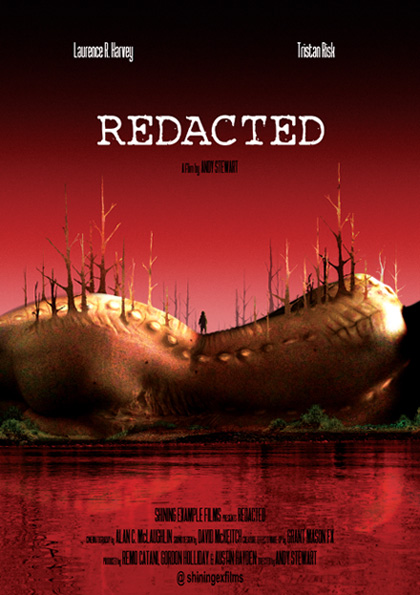 SYNOPSIS

While on an afternoon hike, an unimposing Man stumbles upon a humanoid creature with alluring female qualities. While fearful and in apparent need of assistance, The Creature oozes sexuality and danger but it is unclear where the danger really lies...

Redacted is an exploration of the darker side of human nature when confronted with something strange and otherworldly.