The "Citizen Kane" of underground movies - coming on September 29th!



Richard Elfman's Forbidden Zone, starring Herve Villechaise (Fantasy Island) and Susan Tyrell (Fat City, Cry-Baby) and featuring original music by Danny Elfman, will make it's way to the home video market on September 29th in various forms including Digital, DVD, Blu-ray, and soundtrack packages. Each edition contains the black and white and color transfers of the film.

In the film sexy Frenchy falls into an insane underworld ruled by a horny little king and his jealous queen. Chicken-boy comes to the rescue, only to have his head cut off by the soul-singing Devil himself--played by Danny Elfman and the Mystic Knights of the Oingo Boingo. Frog butlers, topless princesses and rioting school kids sing and dance in unforgettable musical numbers by Danny Elfman, Cab Calloway, Josephine Baker and other greats. Forbidden Zone is truly a ground-breaking, fun-filled timeless classic!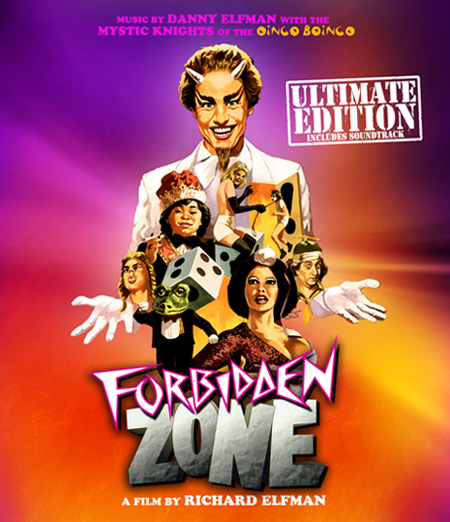 Elfman says:
"Forbidden Zone, the Ultimate Edition is coming shortly to DVD and Blu-ray from my good friends at MVD Entertainment. For the first time ever we include both the original black & white plus the new color version--all in sterling hi-def and state-of-the-art sound mix. There's a terrific booklet and loads of bonus features (including an utterly insane introduction by some idiot who looks a lot like me). I'm very proud of this best ever Forbidden Zone release! Officially Elfo-recommended!"

Bonus Materials
- Audio commentary with director Richard Elfman and writer-actor Matthew Bright
- "A Look into Forbidden Zone" featuring extensive behind the scenes documentary featuring interviews and archive footage, including scenes from Elfman's lost film "The Hercules Family."
- Outtakes and Deleted Scenes
- Original Theatrical Trailer
- Wild new video intro by Richard Elfman with teaser clip of upcoming Forbidden Zone 2.

Pre-Order