Troma Entertainment Presents:
Vincent Turturro's "unapologetically gross" Acclaimed Dark Comedy, VICTOR GOODVIEW



Victor Goodview - Trailer from Jerome Raim on Vimeo.
Troma Entertainment, the longest running truly independent film company in American history, is proud to announce the acquisition of Vincent Turturro's acclaimed dark comedy Victor Goodview - it was announced today by Lloyd Kaufman, President of Troma Entertainment and creator of The Toxic Avenger.
"Strikingly dark and profusely funny, Victor Goodview is a good view anytime! We are very excited to distribute Mr. Turturro's masterpiece of drug fueled constipation hilarity!" stated Lloyd Kaufman.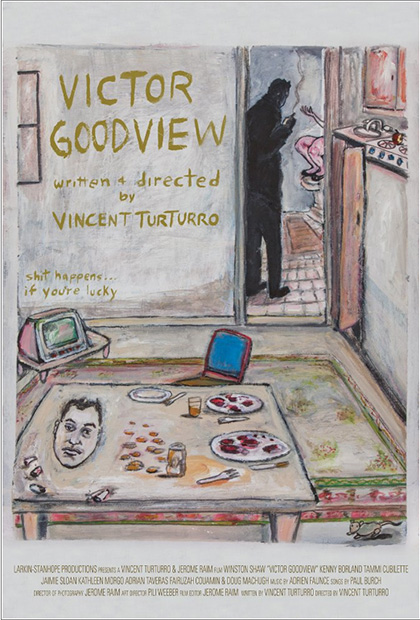 "Shit happens...if you're lucky."
In the Yonkers ghetto - on the outskirts of New York City - aimless white-boy-millennial Victor finds himself without a job and short on the utility bill. To make matters more...uncomfortable, he hasn't had a bowel movement in longer than he can remember.
Victor seeks solace by making friends of dubious character, smoking crack of dubious quality, and pursuing women of dubious intent. As Victor readies himself for his desperately needed dead-end job interview, the consequences of his lifestyle catch up with him.
"Victor Goodview reads and watches like an anxiety dream on steroids. It is druggy, bitter, and full of pain, but also awkwardly hopeful...Recommended for the intellectual horror fan who is looking for something to break up their regular viewing timetable."
-Thomas Burns Scully, PopDust (Full review here: Victor Goodview Review)
Director Vincent Turturro on the making of Victor Goodview, "Victor Goodview was a maiden collaboration that's turned our dream, delusion, fantasy (whatever you want to call it) into a tangible one. To use an AA aphorism Vic might espouse in a future sequel, we faked it till we made it. From toiling to pare down an offensively long 242 page script, dickering through preproduction, to ultimately frittering proudly our life savings on the project, we spearheaded our ultra low budget, self funded feature and now await the world's reaction to its scatological splendor."
Visit:
VictorGoodview.com
facebook.com/VictorGoodview