The cast of BFF Girls Allison Maier - Rose, Jessica Shipp - Lily, Jessica Nam - Superhero Lily, Sydney Thomas - Violet, Carolann Utley - Superhero Violet, Lawrence Sykkmon - Fabuloso Doom, Laurence Harvey - Neko Sensei and Michael St. Michaels - Narrator! BFF Girls debuts March 24th at The Boston Underground Film Festival!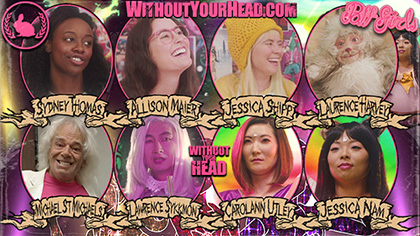 The BFF Girls cast opened the show going over the making of BFF Girls, what they thought of the finished movie and more!



Nasty Neal and Troy finished off the show with:
- Boston Underground Film Festival line up
- Kobra Kai series coming
- Chopping Mall anniversary and proposed remake
- Boar with Bill Moseley and more!


[ Anchor.FM ] [ Spotify ] [ YouTube ] [ iTunes ] [ Stitcher ]
[ Google Play ] [ Radio Public ] [ Pocket Casts ] [ RSS ]
Subscribe to the
Without Your Head
newsletter to receive weekly updates on our schedule, guests and more!
Music of the month
Deadite
supplying the tunes!
Tracks for this podcast -
Our new theme song by
The Tomb of Nick Cage
"Bad Taste" by
Deadite
!
Join in the fun at:
www.facebook.com/groups/withoutyourheadhorror
Subscribe to
Youtube.com/WithoutYourHead
Follow us on Twitter @WithoutYourHead
Follow us on Instagram @WithoutYourHead