Comic book creator James Burton returns and Nicholas Hunt joins us to talk about Safe Place and the just announced documentary on Jason Goes to Hell!



James Burton opened the show!
- The Edgar Allen Poe Chronicles
Kickstarter.com/projects/drenproductions/the-edgar-allan-poe-chronicles
- Chaotic Good podcast
- Kira Burton
- Suicide Prevention
- Damage Inc comic and more!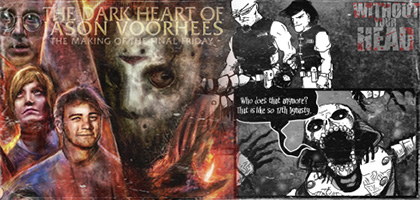 Nick Hunt joined us (1:50:00)
- Safe Place
- making his first feature
- The Dark Heart Of Jason Voorhees: The Making Of The Final Friday
- Friday the 13th franchise
- Wrestlemania and more!

Neal and Troy finished out the show:
- Pancho Moler and Danny Trejo in Rob Zombie's 3 From Hell
- Day of the Dead Bloodline review
- The Terror on AMC
- A Quiet Place review
- It's Alive trilogy coming to BluRay and more!


[ Anchor.FM ] [ Spotify ] [ YouTube ] [ iTunes ] [ Stitcher ]
[ Google Play ] [ Radio Public ] [ Pocket Casts ] [ RSS ]
Subscribe to the
Without Your Head
newsletter to receive weekly updates on our schedule, guests and more!
Music of the month
Deathwood
supplying the tunes!
Tracks for this podcast -
Our new theme song by
The Tomb of Nick Cage
"Losing Hands", "Freak Family", "Horror Movie", and "The Day is Over" by
Deathwood
!
Join in the fun at:
www.facebook.com/groups/withoutyourheadhorror
Subscribe to
Youtube.com/WithoutYourHead
Follow us on Twitter @WithoutYourHead
Follow us on Instagram @WithoutYourHead