Writer, director, producer and all around good guy Bill Sachs joined us to talk about THE INCREDIBLE MELTING MAN, GALAXINA a possible sequel and more!



William Sachs joined the show:
- "The Incredible Melting Man"
- "Galaxina"
- possibilities of a sequel
- working for Cannon Films
- Dorothy Stratten
- fixing films
- the frustrations of working in the industry
- The Leprechaun
- Rick Baker
- Alex Rebar
- tons more please check it out!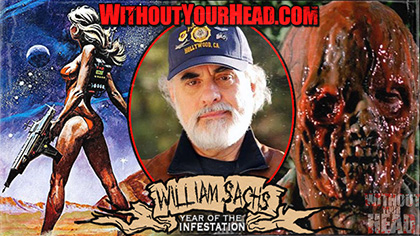 Terrible Troy and Nasty Neal then went over:
- "Won't You Be My Neighbor" the Mr. Rogers documentary
- "Society" review now on Shudder
- "A Quiet Place" sequel coming
- "Glass" poster
- "Creepshow" special edition coming from Shout Factory
- "The First Purge" and "Antman and Wasp" opening this weekend
- "The Gallows" sequel coming
- "Child's Play" remake and series coming?!? and tons more!





[ Anchor.FM ] [ Spotify ] [ YouTube ] [ iTunes ] [ Stitcher ]
[ Google Play ] [ Radio Public ] [ Pocket Casts ] [ RSS ]
Subscribe to the
Without Your Head
newsletter to receive weekly updates on our schedule, guests and more!
Music of the month
The Jasons
supplying the tunes!
Tracks for this podcast -
Our new theme song by
The Tomb of Nick Cage
"Can't Stop Killing" and "Stalk and Slash Summer" by
The Jasons
!
"Death at my Door" and "My Soul to Keep" by
The Creepshow
!
Join in the fun at:
www.facebook.com/groups/withoutyourheadhorror
Subscribe to
Youtube.com/WithoutYourHead
Follow us on Twitter @WithoutYourHead
Follow us on Instagram @WithoutYourHead