Experimental director Andre Vanpoelvoorde talks HELL!



Andre Vanpoelvoorde joined us!
- his first feature HELL
- claymation
- filming in New Orleans, Cuba, New York, Vegas, Maine and more
- making the devil
- what is Hell ?
- wrestling
- years with WYH and much more!

Watch HELL here: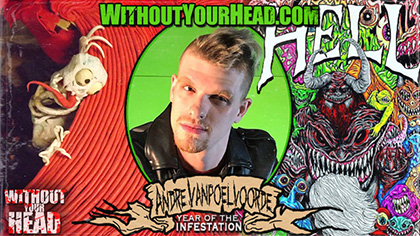 Andre stayed with us to go over the horror news!


[ Anchor.FM ] [ Spotify ] [ YouTube ] [ iTunes ] [ Stitcher ]
[ Google Play ] [ Radio Public ] [ Pocket Casts ] [ RSS ]
Subscribe to the
Without Your Head
newsletter to receive weekly updates on our schedule, guests and more!
Music of the month
The Jasons
supplying the tunes!
Tracks for this podcast -
Our new theme song by
The Tomb of Nick Cage
"Do You Remember Static Age Radio" and "Stalk and Slash Summer" by
The Jasons
!
"Death at my Door" and "My Soul to Keep" by
The Creepshow
!
Join in the fun at:
www.facebook.com/groups/withoutyourheadhorror
Subscribe to
Youtube.com/WithoutYourHead
Follow us on Twitter @WithoutYourHead
Follow us on Instagram @WithoutYourHead