The man behind Unearthed Films Stephen Biro and "Father Corbin" Gene Palubicki discuss their newest film in the American Guinea Pig series The Song of Solomon!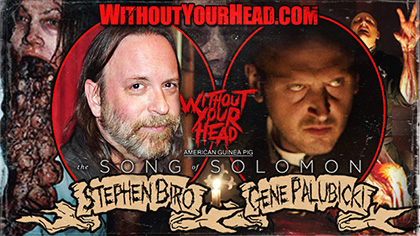 Get "The Song of Solomon" on BluRay



[ Anchor.FM ] [ Spotify ] [ YouTube ] [ iTunes ] [ Stitcher ]
[ Google Play ] [ Radio Public ] [ Pocket Casts ] [ RSS ]
Subscribe to the
Without Your Head
newsletter to receive weekly updates on our schedule, guests and more!
Music of the month
Perdition Temple
supplying the tunes!
Tracks for this podcast -
Our new theme song by
The Tomb of Nick Cage
"In The Name of a Newborn Tyrant" and "From This Darkness of Flesh" by
Perdition Temple
!
"Death at my Door" and "My Soul to Keep" by
The Creepshow
!
Join in the fun at:
www.facebook.com/groups/withoutyourheadhorror
Subscribe to
Youtube.com/WithoutYourHead
Follow us on Twitter @WithoutYourHead
Follow us on Instagram @WithoutYourHead