World renown mentalist The Amazing Kreskin talks about his favorite horror films and more!
AmazingKreskin.com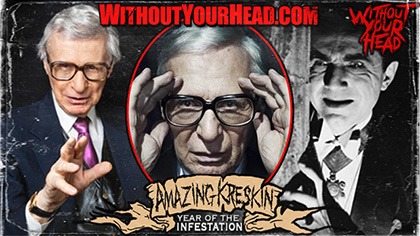 "Nasty" Neal and "Terrible" Troy went over:
- "Us" trailer
- "Z Nation" cancelled
- "No Man's Ridge" new Bigfoot film coming with Nicholas Principe
- "Silent Night, Deadly Night" franchise review
- "Bird Box" review
- "Get to the Chopper" Predator themed whiskey
- call in with Make-Up artist Craig Lindberg and more!


[ Anchor.FM ] [ Spotify ] [ YouTube ] [ iTunes ] [ Stitcher ]
[ Google Play ] [ Radio Public ] [ Pocket Casts ] [ RSS ]
Subscribe to the
Without Your Head
newsletter to receive weekly updates on our schedule, guests and more!
Tracks for this podcast -
Our new theme song by
The Tomb of Nick Cage
"Me, Myself and Monster" by Music of the Month
Small Town Titans
!
Join in the fun at:
www.facebook.com/groups/withoutyourheadhorror
Subscribe to
Youtube.com/WithoutYourHead
Follow us on Twitter @WithoutYourHead
Follow us on Instagram @WithoutYourHead