William Crain director of the blaxploitation classic "Blacula" joined us! You can also see William on "Horror Noire" now on Shudder!
Shudder.com



William Crain opened the show:
- how he got involved in "Blacula"
- William Marshall
- racism in the business
- untrue rumors out there
- working for AIP
- "Blaxploitation"
- "Horror Noire"
- why he left the business
- possible return and more!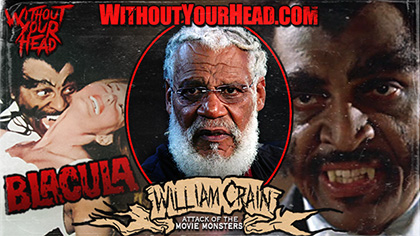 Then Nasty Neal and Terrible Troy went over:
- upcoming "IT" chapter 2
- "IT Monopoly" and "IT Clue"
- "Critters" series coming to "Shudder"
- Barry Bostwick cameo in "Three From Hell"
- "The Walking Dead" having a 2nd spin off and more!


[ Anchor.FM ] [ Spotify ] [ YouTube ] [ iTunes ] [ Stitcher ]
[ Google Play ] [ Radio Public ] [ Pocket Casts ] [ RSS ]
Subscribe to the
Without Your Head
newsletter to receive weekly updates on our schedule, guests and more!
Tracks for this podcast -
Our new theme song by
The Tomb of Nick Cage
"I Don't Wanna" by Music of the Month
Scary Cherry & the Bang Bangs
!
Please help keep WYH running!
Join in the fun at:
www.facebook.com/groups/withoutyourheadhorror
Subscribe to
Youtube.com/WithoutYourHead
Follow us on Twitter @WithoutYourHead
Follow us on Instagram @WithoutYourHead