Review of "Child's Play" by The Headless Critic

Child's Play – 2019

Production by: Orion Pictures, BRON, MGM Studios, Dead Leaf Productions, Oddfellows Entertainment
in co-production with: TF1 Studio
in association with: KatzSmith Productions
Distribution by: United Artists Releasing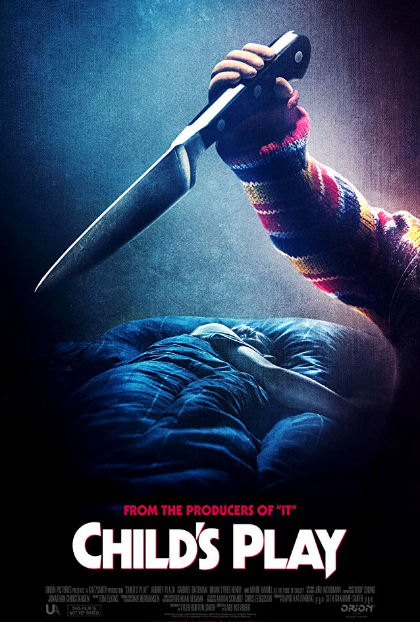 "You're my buddy until the end, more than a buddy you're my best friend. I love you more than you'll ever know. I will never let you go."

Having just moved to a new school Andy Barclay (Gabriel Bateman) is having trouble making friends. Luckily for his mother Karen (Aubrey Plaza) Kaslan technologies has just released the newest at home smart device that's perfect for a lonely boy at home. "Prepare to meet your new best friend." Buddi is more than just a doll your kids will love. Buddi can connect to all Kaslan and in home smart devices. He's "more than a toy, he's your best friend." As a single mom on a restricted income, Karen had to get her son a Buddi that was returned defective. When strange things begin happening in the Barclay household, Andy learns he and his new Buddi Chucky (Mark Hamill) are going to be "Friends to the End."

Another remake of 80's horror attempts to do something a little different with a franchise some people love. With the original series of films heading to tv, first time feature writer Tyler Burton Smith reanimates Don Mancini's Child's Play into the digital age for the big screen. Norwegian director Lars Klevberg is given a big task in a beloved franchise among horror fans in only his sophomore feature. The results are a mix of giant doll heads, throwback fun 80's kills and nonsensical base storytelling.

A lot has changed in the last thirty years. Kaslan Industries, an equivalent to Apple, has just released their home entertainment assistant in doll form. Unlike Alexa who can only respond to commands, Buddi is a walking, talking, learning, interactive friend who can also control your connected devices through his magical E.T. finger. Artificial intelligence in a movie? What could possibly go wrong! When a dirty, disgruntle worker in a foreign factory where the expensive Buddi dolls are made for pennies on the dollar, decides that he's had enough, a simple reprogramming turns a multi-billion dollar company's latest electronic money maker into a killing machine. You would think they would have better safeguards since it seems even the most novice of hackers could turn people's toys into death machines.

If you're going to replace Brad Dourif, Mark Hamill does a slightly annoying job but considering Chucky's voice was always slightly annoying it fits. The child actors in the film aren't given enough character depth as a Stranger Things or IT cast but they all do well enough. Parks and Rec's Aubrey Plaza plays a modern day single mom well. She is way too hot for her movie boyfriend Shane (David Lewis) which fits perfectly to the way things tend to go in real life. Detective Mike Norris (Brian Tyree Henry) seems to be the comedy relief cop of the film in a similar fashion to Get Out's Rod Williams. Brian Tyree Henry actually makes you care a little about the character he plays and his mother Doreen (Carlease Burke) but he just doesn't fit the role of a detective at all.




Chucky's head is HUGE, his voice is different and instead of being a doll possessed by a killer, he's malfunctioning A.I. It's not as bad as it sounds though, he's malfunctioning artificial intelligence who's learned to kill watching Chop Top Sawyer (Bill Moseley). If you aren't too big a fan of the original franchise and you can accept that going in, there's laughs to be had at Chucky's expense and definitely some frustrations to go along with the humor as well.

The real star of Child's Play reboot, 2019 is a huge surprise and no I'm not talking about Chucky's huge head or his magical E.T. finger. Don't think we didn't notice what you did there with your E.T. finger Chucky and Andy in a red hoodie. Speaking of Andy he's way too old to be playing with dolls in this one but at least they mention that in the film.

Where Child's Play 2K19 really shines a bright crimson is in it's Texas Chainsaw Massacre 2 inspired kills. From falling off a ladder to a gardening accident and even a throwback cutaway kill, the deaths in Lars Klevberg's Child's Play is where all of the fun is at. Nothing can make up for the size of Chucky's enormous head, but at least he wasn't CGI. There's also a lot of ridiculousness in the kills, like how a head gets scalped but somehow ends up back on a watermelon with the rest of a skinned face that should be shredded. When the kills go modern they do lose some fun, like a drone with razor sharp killer blades? Com on! Even turning up the heat to make a metal pipe hotter is ridiculous but the fun dismemberment death that follows does make up for it. If the changes to Chucky don't make you mad and you can overlook the lack of logic and realism there's nonsensical throwback fun to be had to a time of comical horror movie kills that make you laugh and cringe and look away.

Now Playing in Theaters

3 out of 5 Headless Critics