Review of "Midsommar" by The Headless Critic

Midsommar – 2019

Production by: B-Reel Films, Square Peg
Distribution by: a24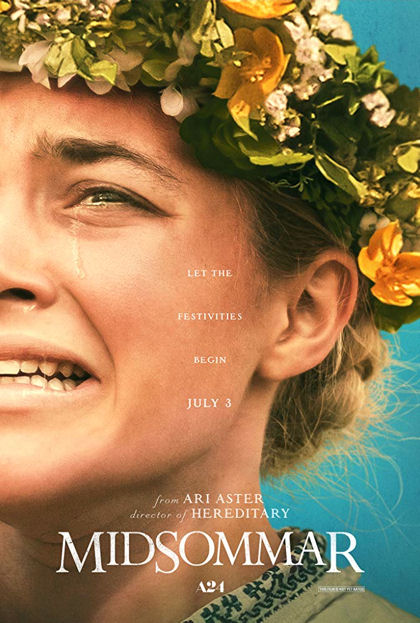 Planning their summer break from college Americans Christian (Jack Reynor), Josh (William Jackson Harper) and Mark (Will Poulter) decide to go to Sweden visiting the hometown of their friend Pelle (Vilhelm Blomgren) and partake in his rural Swedish town's mid-summer festival. Even though he was ready to break up with her over a year ago, Christian invites his girlfriend Dani (Florence Pugh) who's dealing with post-traumatic stress and depression after the untimely death of her family. As soon as they arrive to the isolated location of what they thought was a small commune, the people of Pelle's hometown show themselves to be a religious cult with increasingly violent ritualistic traditions.

A powerful opening scene shines a light on Florence Pugh, showing her acting talents as she shows emotion on queue. Her visceral moans are the most realistic portrayal of internal pain I can recall seeing in cinema. With these opening scenes alone director Ari Aster shows he's capable of directing a film with potential to win Oscars for best picture but more importantly be remembered as one of the greatest films of all time. His cinematographer Pawel Pogorzelski stands out as memorable with beautiful shots in the darkness of Hereditary, the rolling, bright European hills of Midsommar and even the 2017 Indy horror feature Tragedy Girls. The casting of relative unknowns like Florence Pugh and Milly Shapiro in Hereditary show the director or his casting agent Jessica Kelly have an eye for talent while also casting a realistic outside Hollywood look in his actors that people going to the movies can relate to. Or perhaps Ari Aster just has the ability to pull the best performances out of his cast.

In 2006 with what was also his second feature film Eli Roth directed a temporary hit until everyone decided to start hating it in Hostel. It was about a group of young people visiting the wrong part of Europe and being brutally attacked for what was seemingly the carnal pleasures of their attacker. The opening scene aside, Midsommar is an arthouse version of Hostel with paganism taking place of sadism. In his first film Hereditary Ari Aster created a three part act with two major turns in both the second and third act that left most of the audience stunned. Hereditary's third act turn went demonic with a religious upheaval. Midsommar turns religious early on, slowly evolving into exactly what you think you're going to see with shock value but little surprise story progression.




After an opening attachment to the only redeemable character of depth, which is of course the only girl Dani, she basically becomes a vegetable we no longer get to know beyond her tragedy. Josh's character is barely touched upon to have enough meaning to matter so the film focuses next primarily on Christian. To Ari Aster and actor Jack Reynor's credit Christian is realistically portrayed but he's still a typical douche boyfriend we've seen in numerous horror films before. As the ritualistic beliefs of the cult grow more volatile, Mark continues looking for a good time while Christian and Josh see the opportunity to research their cults behavior to write about in their thesis. Dani who wasn't even supposed to be on this trip is the only one that senses something about this religious commune just isn't right. By the time of the first death at the commune anyone who doesn't leave at that point I just no longer cared about.

Accurately compared to The Wicker Man if for nothing else but it's ending, the wrought storytelling and mystery shaped in Robin Hardy's classic just isn't in this Midsommar festival perhaps because this time we've attended this story before. Artistic scenes can be a touching viewing experience and there are definitely powerful scenes in Midsommar that include Hostel worthy gore. A ritualistic deflowering of a young girl just wasn't something I wanted to watch and you didn't make me care about your characters enough for it to have meaning. It is simply shock value cinema portrayed artistically.

Available Now in Theaters

2 out of 5 Headless Critics