Review of "47 Meters Down: Uncaged" by The Headless Critic

47 Meters Down: Uncaged – 2019

Production by: The Fyzz
Distribution by: Entertainment Studios Motion Pictures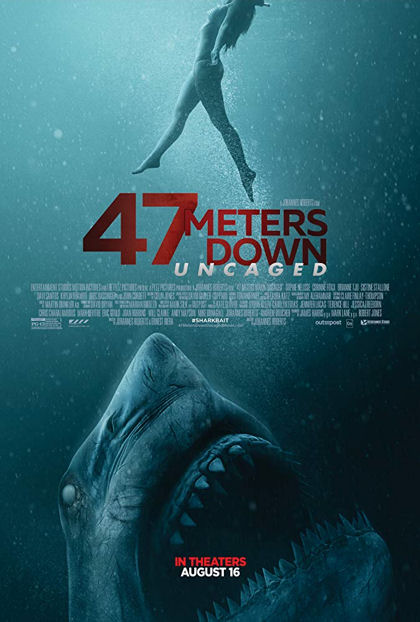 Underwater archeologist Grant (John Corbett) has moved to the coast with his wife Jennifer (Nia Long) where he's found an opening in an undersea cavern to a lost Mayan City submerged underwater. Needing to map the immersed cavern Grant has to cancel his weekend plans with his daughters Mia (Sophie Nélisse) and Sasha (Corinne Foxx). When Sasha's friends Alexa (Brianna Tju) and Nicole (Sistine Stallone) convince the girls to ditch the tourist attraction day their dad planned for them and go to a place only the locals know about, the four high school teens find themselves trapped in their dad's newfound underwater Mayan City where albino great white sharks have evolved making it their home. With limited air supply the girls must traverse the submerged caverns through the hunting grounds of the Great White Sharks that live there. Time to chum the waters.

47 Meters Down writers and director Johannes Roberts and Ernest Riera return to the water this time going in uncaged. The most suspenseful dynamic of the original film is the depths our divers sunk to being on the limit of where humans can survive. The tension built in the first film was at the situation of being trapped underwater. Great Whites were only an added aspect of the film that was already deadly. The only link to being 47 meters down in this one is the returning minds that made the original and killer looking sharks.




The Great White sharks look great, pun intended. The four girls define their characters just enough to make the viewer care before they're mostly killed. While the first film was about two girl's survival, like any predictable horror sequel the body count is increased for part two. Very predictable in the order of their deaths, only one actor died suddenly that I didn't expect to go so soon.

There are two aspects where this very typical horror film almost stood out. There's a faux death of one of the characters that briefly makes the audience believe they might see something different in this film than they expect. While I'm not typically a fan of feel bad cinema, a huge opportunity was missed in what could've been the glass bottom underwater ending mirroring the film version of Stephen King's The Mist. If the film had gone grim, the girls could've been brought back to the moment they decided to go on this adventure being eaten alive by sharks in front of their classmates on the tourist attraction they decided not to go on. That ending would have made this movie miserable but memorable. Instead we get another feel good shark survival film where characters that should have meant more are too easily forgotten.

Available Now in Theaters

3 out of 5 Headless Critics