Film Review by Ashley Turner

'Posies' playing at LA Shorts July taking place July 10th - July 31st
lashortsfest.com

Posies is a horror short film written by R.H. Stavis; directed by Katherine Fisher and R.H. Stavis; starring Anna Diop and Andy Favreau.

Synopsis: "As people begin to "devolve" into monsters, one woman attempts to hide her transformation by placing flowers under her skin."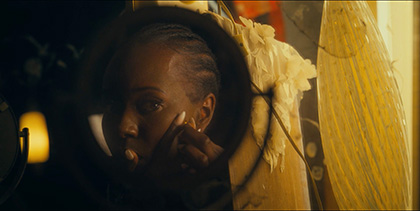 Posies is such a beautifully shot film, with careful and deliberate attention given to every detail of visual filmmaking. Through shot composition, camera movement, lighting tone, and the overall color palette contrast of darkness paired with vibrant colorful lighting choices; this film is an aesthetic masterpiece. Hats off to the art direction of this film, it landed so completely hard on the mark. I believe I actually swooned throughout the entire film.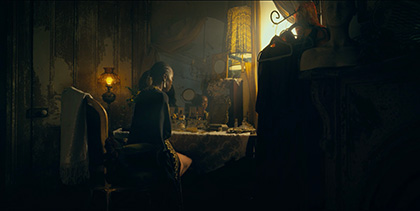 Anna Diop's performance as Maddy is what conveys the entire storyline; delivering the world this story is built into without feeling heavy-handed or too much "telling versus showing". Her ability to oscillate between revealing her own demons and analyzing herself, while also describing the building phenomena occurring to humanity in their world, is absolutely captivating.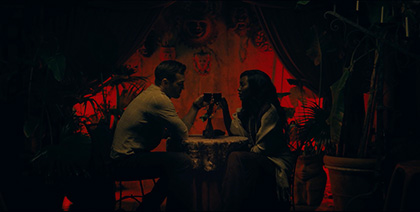 At times the musical composition and sound effects do appear to be out of volume level sync with the rest of the film, which muffles the dialogue a bit, but overall the score is spot-on in capturing and layering the emotion of each and every scene. One cannot help but appreciate the subtle disturbing sounds of bones crunching and flesh separating as we journey through each captivating scene. Another beautifully executed layer symbolizing an underlying message of the film. Did I mentioned how I swooned?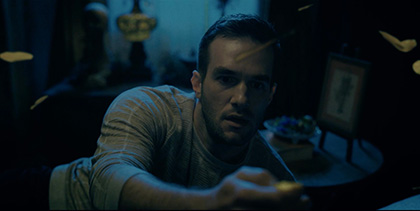 At first watch, the final scene felt disconnected from the film, but as I re-watched the film and processed my thoughts on what was being conveyed, I realized the ending is absolutely perfect to this story. The stark contrast between the final two scenes is a horrifically beautiful physical manifestation of the struggle to mask, suppress, and ignore our inner demons. I absolutely love a film with subtle layers that give me material to process long after I have watched it.




Posies is a haunting film, poetic in execution, and a melodic metaphor of the inner turmoil so many people try to desperately hide beneath the surface. Add this to your "must watch" list, you will not regret it. I didn't know I could swoon at horror, yet here I am: swooning.