"The Feast" (2021) Review: An appetizing five-course film of macabre…
Film Review by Ashley Turner

The Feast is an international horror film written by Roger Williams,directed by Lee Haven Jones; starring Nia Roberts, Stefan Cennydd, Sion Alun Davies, and Annes Elwy.

Synopsis: "Filmed in Welsh, the picture follows a young woman serving privileged guests at a dinner party in a remote house in rural Wales. The assembled guests do not realize they are about to eat their last supper."

The Feast opens on a scene of mining, or drilling of some sort, and what appears to be a mysterious bloody death. We are introduced to each character of the film by way of the ever-shifting voyeuristic lens of other characters. The viewer is immediately submerged into the dark, perverse, and disturbing nature of each member of this sterile, privileged family. There is no doubt that this family is being structured into some kind of dark retribution. So far so good…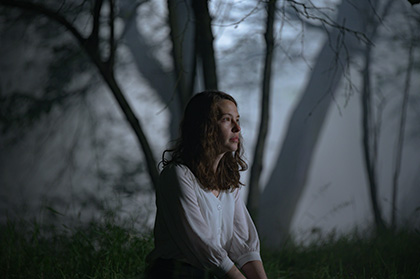 The camera choice contrast between wide shots and narrow angular shots effectively pulls the viewer closely into the disorienting, and dare I say extremely uncomfortable, tone of this film. Each scene is well lit, with just the right amount of vignetting, with camera perspective choices ranging to fit each scene and enhance the tone and intensity of the film. There are a few scenes that seem to be edited towards the warmer tones, with quite a bit of softening and glow enhanced in post-production. With such a contrast to the majority of the film's established color and temperature style, I wasn't sure if it was a dream or fantasy sequence of some sort at first. Perhaps there was something important to the storyline in those specific scenes that led to that specific editing choice; but for the life of me I just could not find it. Oh well, not a dealbreaker…

The casting choices were absolutely phenomenal and each character so well-written and delivered that you could not help but relish in the idea that they would be receiving their eventual comeuppance. Perhaps it is the softie in me, but the only character I was hoping for some sort of redemption and mercy was that of Guto (Cennydd). His moments of compassion and subtle concern for the unusually silent (definitely not concerning at all…) character of Cadi (Elwy) made him slightly redeemable in my book. He didn't appear to be hurting others, just himself. Unfortunately, an eye for an eye (or in this poetic case, a limb for a limb) spares nobody. Well, darn. On we go…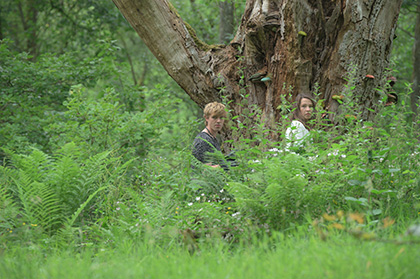 Each chapter of the film slowly, and yes I mean very slowly, reveals layer-by disturbing-layer more about our characters. The toxicity this family releases into the world around them and their complete contempt for to the land, focusing only on wealth and pristine living, sets a very obvious tone of industrialization v. environmentalism. Consumption v. conservation. With a character by the name of Euros (nope the irony is not lost on us) representing the big bad drilling companies, the moral of this story is definitely not going to be subtle in this film. The filmmakers of this film, not only make a pretty obvious statement on the effects of the damage that is being done to Earth, by creating an eco-horror, but they also interlace not so obvious messages on selling out where you come from and who you once were for modernism and power; making a deal with the devil by turning one's back on their history and culture. There are numerous subtle, and not so subtle, powerful scenes speaking to the idea of dismantling your roots piece-by-piece, and the impact of that on the overall self.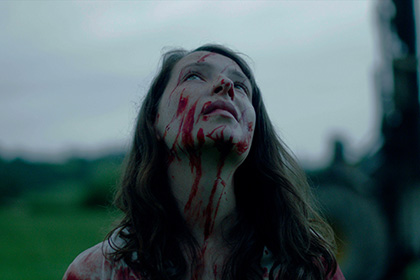 While the slow unearthing and hints of a supernatural element at play were done in a fun way, I did feel the origins and eventual major moment of reveal were a bit rushed and could have been delivered with a bit more care. Still, I was intrigued with the folklore and world they were building around that specific part of the storyline. The folklore of she who sleeps under The Rise, slightly reminiscent of He Who Walks Behind the Rows, gives us a supernatural element that also makes me question, is this Mother Nature seeking vengeance, or is this something different? Part of me excitedly hopes that this is something different and rooted in folklore with so much more yet to be seen.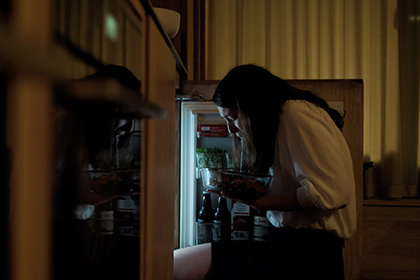 The execution of the film itself is also quite in the vein of "the medium being a message" and an artistically executed utility of the storyline. The filmmakers take the pacing to a very slowed down, deliberately measured pace. Along with limited gore and violence, the film almost tortuously reveals itself, while steadily increasing the action, until the frenzy of the finale clenches the viewer within its sharp, unforgiving claws. Modern mainstream horror films tend to pull their viewers in with constant jump scares, gore, and in-your-face pacing; conditioning the audience to films that feel more like action films with an exorbitant budget line for blood-and-guts. Not a bad thing…there is a place and an audience for everything, and don't get me wrong, you will get your fill of blood and horror in this film. Fear not darlings, the Feast will absolutely deliver a smorgasbord of horrible delights for you to feast your eyes upon. However, The Feast also takes us back to films where storyline and acting, not effects, propels the unseen horror. They take us to a place of discomfort, slow reveals edging towards intense finales, and a space where internal monsters are oftentimes scarier than the supernatural monsters we create within our imaginations.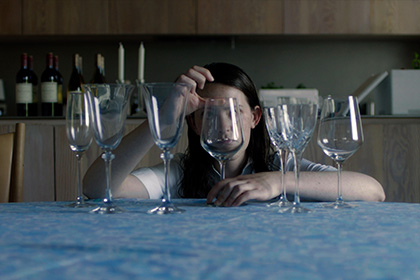 Usually, I do not tend to like films with slow pacing and overt storyline morals…but going through my mental checklist of, "Did that bother me or take me out of the experience," I realized that it in fact did not. The filmmakers turned what are oftentimes film's weaknesses into their film's strengths. Holy moly…that is no easy feat! Along with a haunting score, this film elegantly lulls us into a disturbing place of folklore-based vengeance where madness and bloodlust are the only outcome for atonement. The Feast is an appetizing film that combines the elegance of steady-building fear with the morbid macabre to satiate horror fans and leave you anxiously awaiting more…