"Archive 81"
review by Diablo Joe

Now streaming on Netflix!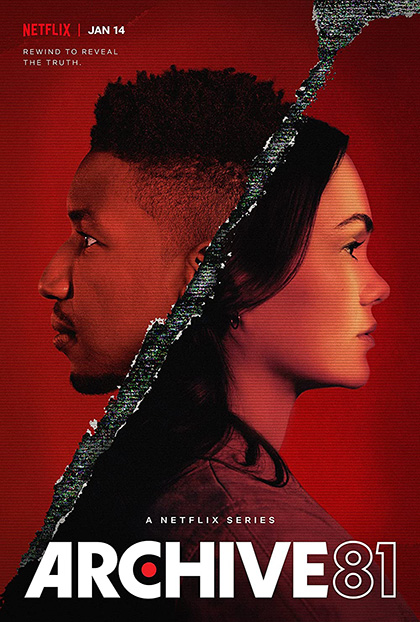 "Archive 81"

Streaming on Netflix, the eight-episode occult supernatural thriller "Archive 81" is the newest genre offering from that service, following the most recent successes of "Midnight Mass" and the incomparable "Squid Game." "Saw" creator James Wan and "The Boys" and "Vampire Diaries" writer Rebecca Sonnenshine are two of the names behind the show, but this subdued, slow burn, atmospheric trip through time and the supernatural bears a scant resemblance to any of those often over-the-top fan favs.

"Archive 81" follows Dan (Mamoudou Athie), a young media archiving and restoration expert. Hired by secretive billionaire CEO Virgil Davenport to restore a series of videotapes recovered from ashes of the Visser Building that was consumed by fire 25 years earlier, Dan finds himself consumed by what the tapes reveal and by the woman who recorded them. Melody Pendras (a luminous Dina Shihabi) disappeared along with the rest of the Visser residents when the building burned down. But their bodies were never recovered, and as Dan digs deeper into the tapes and their mystery, he finds serpentine ties that intertwine a decades-old urban mystical cult and the tragedy of his own childhood.

Told through a number of visual and storytelling devices—a combination of Melody's found-footage-style documentation and alternating timelines and viewpoints—stylistically, the show is masterful in the subtle manner that it weaves these elements together so that the audience is not only able to follow its intricate plot points but also, along the way, glean clues to the mystery as it unfolds. In fact, "subtle" could be the defining word for much of "Archive 81." Subtle and finely detailed. The show creators have given us a wholly realized and utterly believable world, and it goes a long way to engrossing us in the story. The portions of the "Archive 81" that follow Melody are set in 1995, and while the creators haven't tried to beat us over the head with anachronisms, we never confuse what era we are observing. Likewise, "Archive 81" is almost a filmic version of the 1930s Dennis Wheatley "crime dossiers;" murder mystery novels that came complete photos, documents, and even physical clues to help you solve the case. This show is dense with paraphernalia and mocked-up multimedia. Peppered with vintage commercials, newscasts, video clips, and other tidbits that seem so real, they may have you googling names and references throughout watching.

Likewise, the characters and performances are subdued and colorfully engaging. Even as Dan often sits as a passive observer, Athie keeps the role appealing. Damaged and affected by his past while still intelligent and empathic, Dan is a charismatic fellow but a bit of an introvert. Shihabi is simply excellent as Melody. It's challenging to play someone who always has a video camera in hand and not come across as annoying and invasive. Shihabi pulls it off and makes us love and care for Melody, even when her obsessions overtake her common sense. The supporting cast and their well-drawn characters continue to flesh out "Archive 81's" universe. As Dan's podcaster buddy, Matt McGorry's effortlessly cheeky performance is a joy. And young Ariana Neal is talented beyond her years in her role as Jess, the youngest of the Visser's doomed tenants.
Setting "Archive 81" in New York so works in the show's favor. That city affords all of the elements needed by the plot—urban history, its art world, and so much more. But only New York City, above any other in the world, would allow so much eccentric and bizarre activity to exist with such little concern or interference. It has always embraced its weird, and even its dangerous, citizens.

"Archive 81" is not perfect. Though its effects are as seamless and well-executed as its cinematography and production design, one key supernatural element comes across as a bit underwhelming in the end. All of its disparate pieces come together, but perhaps a bit too neatly at times, and the final episode flirts with becoming a bit mawkish at times. Still, its greater parts sum up to a hell of an interesting occult mystery rabbit hole.

For those willing to be patient and allow a deep-well of a story to be drawn forth, "Archive 81" will reward. It is intelligent, fascinatingly well-thought-out, beautifully executed and acted, and yet another feather in Netflix's cap.

This devil of a reviewer gives "Archive 81" 4 out of 5 imps.