"Fresh"
review by Diablo Joe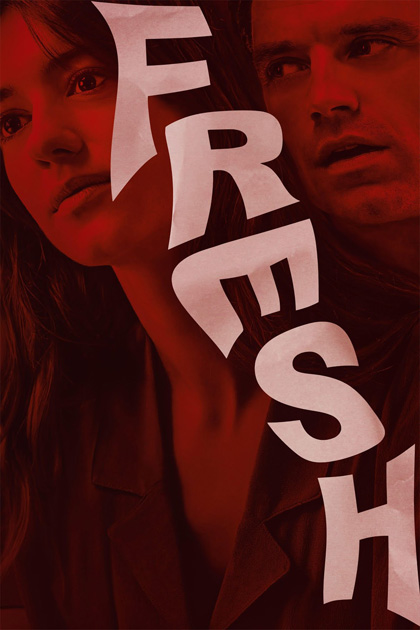 "Fresh"

"Fresh," a twisted, darkly comic tale streaming now on Hulu, starring Daisy Edgar-Jones and Sebastian Stan, is a film best viewed, well, fresh. The less you know, the more fun and enjoyable the picture is to savor, and the trailers have smartly kept all but the most basic set-up of the story a cryptic tease. As such, this review will be as spoiler-free as possible.

Noa (Edgar-Jones) is a bright, charismatic young woman weary of the dating scene. When a chance meeting with Steve (Stan) sparks interest and intrigue, the two embark on the start of a romantic relationship. But things with Steve are not what they seem, and as Noa discovers his true nature and intentions, their relationship takes on an ever-more perverse, taboo flavor.

Following his work in the Marvel Universe as Bucky Barnes, it's a daring twist for an actor such as Sebastian Stan to take on a picture and role such as Steve. Stan, while certainly a hot commodity, is not established at the level of costars such as Chris Evans or Tom Hiddleston. For them to take on a role that diverges so far afield from their superhero personas might more easily be viewed as "flexing," but for Stan, it's a chancier proposition. That he takes it on in such a full-throated manner, with glee and aplomb, is commendable and to the picture's benefit. His performance makes Steve 100% watchable and entertaining, even as he delves deeper into the character's darker tendencies.

As much as Stan brings to the table, his costar, Daisy Edgar-Jones, serves up an even more impressive offering with her spunky and absolutely engaging take on Noa. A British actress more familiar to television audiences (BBC'S "War of the Worlds" being her most visible role previously), Edgar-Jones is simply fantastic. She gives Noa an intelligent resilience that is completely believable and essential for her character's arc within the film. And she is so appealing, smart, and charismatic that we can see why Steve would become so fascinated with her. Were "Fresh" a film with a broader audience appeal, this could have been a real breakout role. Hopefully, those in the industry can take note of her potential. We need to see more from her.

"Fresh" is the feature directorial debut of Mimi Cave, working from a script by Lauren Kahn. Their perspective gives the film a confident female-centricity that dovetails seamlessly with more exploitative and horror elements that its revelations demand. It makes the movie's cat-and-mouse aspects all the more enjoyable and thrilling. The humorous elements aren't always as successful. The film's levity and cheeky flair are essential to making its darker aspects more palatable and easier for an audience to digest. Still, it is not without the occasional clunker, particularly toward the film's conclusion.

Notwithstanding that minor quibble, the script and direction are clear and keep "Fresh" moving along apace. Helming a freshman feature with this much style and confidence, Cave, like Edgar-Jones, will be a talent to watch. She shows an assured hand in handling her actors, as well as a strong and intriguing visual sense. The action scenes in "Fresh" are tense and confidently staged. The grislier aspects of the film (aided by some incredibly believable effects prop work) are handled with similar deftness. Somehow, Cave manages to make them unsettling and oddly tasteful at the same time.

In a world where, too often, PG-13 blandness fills our streaming horror menus, "Fresh" is a welcome change of pace. Combining a daring topic with great acting and stylish direction, it's an adult portion that fans will devour easily and with relish. "Fresh" is proof that there is always room for something grown-up, intelligent, and deliciously wicked.

This devil of a reviewer gives "Fresh" 4 out of 5 imps.