"What Josiah Saw"
review by Diablo Joe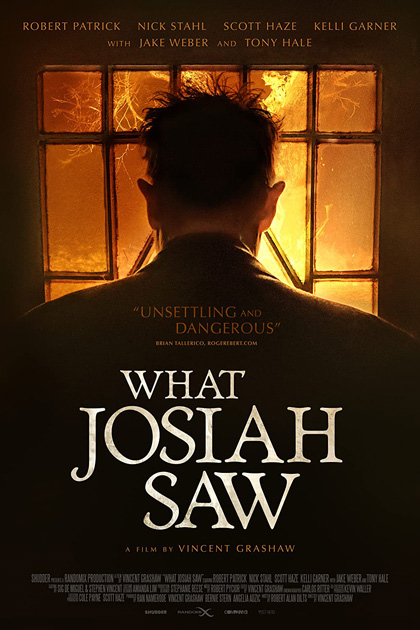 "What Josiah Saw"

Ghost stories are one of scary storytelling's simplest and most basic traditions. Part of what makes them so enduring is that even those of us who do not believe in the supernatural can understand a haunting. A ghost is a remnant of life, and a haunting is a torment that it puts upon the living. "What Josiah Saw" is a ghost story, but it also draws upon the gothic traditions of writers such as Flannery O'Connor, William Faulkner, and, more recently, Cormac McCarthy. It is a film that exists in the shadows of its character's souls, the shared tragedy of their past, and the actions they seek to keep hidden.

Darkness and misfortune have long been a part of the Graham family. Josiah Graham's wife hanged herself on Sunday morning, leaving him to care for his three children, each now grown, having set forth on very different life paths. Two things set in motion a reunion of this fractured family. One is the move to purchase the family land by a group of developers. The second is much more mysterious and ominous, with its roots deeply entwined with the Graham family's past and secrets.

"What Josiah Saw" is a tale in four distinct and, at first, seemingly independent chapters.

The film first introduces us to Thomas (Scott Haze), a feeble-minded and childlike man still under the thrall of his father (an irascibly malevolent Robert Patrick), despite the latter's abuse and demeaning taunts. It is Josiah who revives the dark echoes of their past with his claim to have seen the boy's mother in a vision. Son Eli (Nick Stahl) has had his run-ins with the law—drugs, alcohol, petty crimes, and underage relations are just the start. But his debts to the local crime boss (a surprisingly menacing Jake Weber) send him into a dangerous night of traveling carnival gypsies, mysterious Nazi-plundered gold, and a kidnapped little girl. At first glance, daughter Mary (Kelly Garner) has been the one to have broken farthest free of her family. Married to a successful husband ("Arrested Development's" Tony Hale) and hoping for adoption approval to start a family, she has struggled with mental health issues that had stretched her marriage thin.

When all the Grahams reunite at the family homestead, "What Josiah Saw's" disparate tales come together and unveil, like the many layers of an onion, a story of shame and a multitude of familial sins.

Director Vincent Grashaw and screenwriter Robert Alan Dilts have crafted a grim tale that alternates between quiet despair and explosive violence. At times it may be too much for some audiences. Even when the pair grant their characters a modicum of good news, it is always too late to make a difference. These are people doomed by both history and an inescapable destiny. Stahl, in particular, gives a memorable performance as a man with little to lose, haunted by his demons and with no chance for joy. In a role that, on paper, may not seem far from his recent "Peacemaker" patriarch, Patrick shows the breadth of his acting pallet can make all the difference. His most exciting roles may still lay ahead. Both Haze and Garner avoid the pitfalls that could easily stereotype their characters, and Hale's performance is a million miles away from the timid, neurotic Buster Bluth.

Grashaw and Dilts's careful story structure errs only in the early sub-plot with the land developers. "What Josiah Saw" is otherwise a film entirely from the points of view of the Graham children, and this anomaly of a scene seems to exist solely to lay out the family's history. It's a surprise they couldn't find a better way to integrate those details into their film. The pair trust their audience to stick with each chapter despite no immediately clear connecting thread and the movie's extended stretches of bleakness. It would have been nice if the filmmakers had shown, rather than told, this critical backstory.

So many films may have taken similar material and subjected it to a rote storytelling style and more conventional characterizations. The results could have potentially been serviceable, but Grashaw and Dilts made the decision not to go the easy route. The result is that "What Josiah Saw" stands apart— it is successful because of these choices and hauntingly memorable as well.

This devil of a reviewer gives "What Josiah Saw" 3.5 out of 5 imps.