"Dark Glasses"
review by Diablo Joe

now playing on Shudder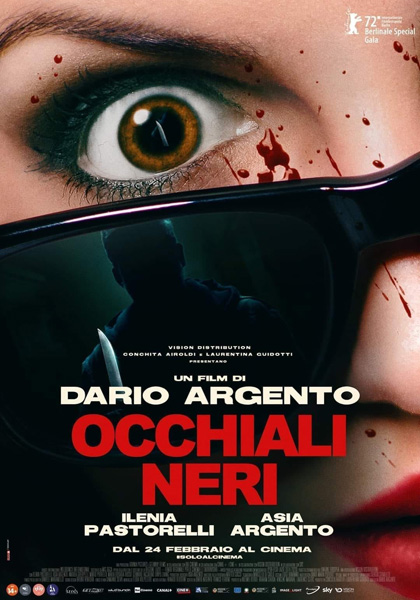 "Dark Glasses"

In the world of horror, the name Dario Argento is enshrined as one of the genre's great directors. Argento first staked his claim to fame with his entries into giallo, and this run peaked with a masterwork of that genre, "Deep Red." His next film, "Suspiria," showed that he could handle the supernatural as well, and he continued vital work in both spectrums for many years. But in Argento's years, with films like "Giallo" and especially the embarrassing "Dracula 3D," the master's touch seemed not just less deft but altogether missing.

"Dark Glasses" is Argento's first film in a decade and, at first, seems to be a return to the giallo style and mystique. It is the story of a beautiful Italian prostitute, Diana, who loses her sight after a car crash while attempting to escape the attack of a brutal serial killer. Recovering from her injury and learning to adjust to her new world, she befriends a young Chinese boy orphaned in the crash. But the serial killer is still out there, and his determination to finish what he has started puts both Diana and the young Chin in danger.

The film's opening murder heralds a return to form for the director. Grisly and enjoyably tense, it sets the tone for a movie Argento fans have long hoped to see from the director. But as the film progresses, it soon becomes apparent that "Dark Glasses" will not be that film. For a director known for daring and strikingly stylized filmmaking, the picture seems not just lackluster but even pedestrian and uninspired once that opening scene has passed. Much of the film is shot with about as much flair as a 1980s TV movie. It is a discouraging experience, especially with the name "Argento" attached.

One of the great tenets of the giallo genre has always been the who-done-it mystery of the killer's identity. And the classic gloved hands are here, but the film makes that trope moot halfway through when it reveals the killer's identity with little fanfare or drama. Moves like this rob the "Dark Glasses" of any real sense of suspense or tension. It's hard to say what the more absurd aspects of the script by Argento and longtime collaborator Franco Ferrini are. Is it the ludicrous lengths the killer goes through in his obsession to kill Diana (including murdering just about every other character in the film)? Or is it the hilariously silly scene of Diana and Chin terrorized by a pool full of water snakes?

"Dark Glasses" doesn't waste its cast, as they seem to be simply punching the pay clock. Ilenia Pastorelli is beautiful but utterly unsympathetic as Diana. Shallow and aloof, her outreach to aid the orphaned Chin lacks motivation and believability. And the actor's attempts at suggesting blindness are high school theater level at best. Even the usually electric Asia Argento, the director's daughter and frequent collaborator, barely registers interest as Diana's trauma therapist.

It's always disappointing when a great and iconic filmmaker—or any artist, for that matter—presents later work that lacks the spark and genuine genius of the earlier part of their career. Argento's output has been so sporadic over the past two decades one wonders why he chose to return to directing with such a meager offering. While not as embarrassingly ridiculous as "Dracula 3D," the film is flat and underwhelming.

It is a work that lacks any passion or genuine artistry, which, coming from Dario Argento, is the saddest aspect of "Dark Glasses."

This devil of a reviewer gives "Dark Glasses" 1.5 out of 5 imps.