"RoboDoc: The Creation of RoboCop"
review by Diablo Joe

Audio version


"Blackout"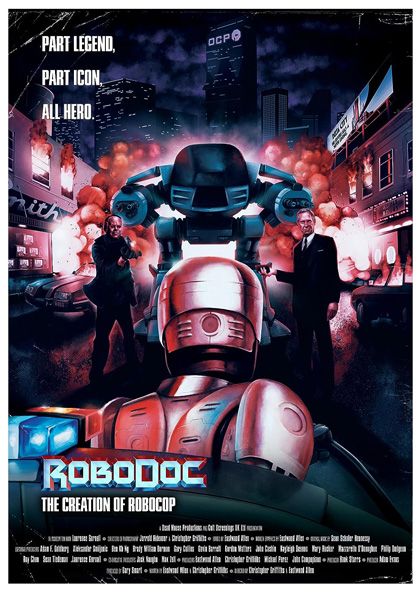 "Dead or alive, you're coming with me."

Those memorable words came from one of the most unique and classic sci-fi action films of the 1980s. The product of an incredible confluence of madmen and creative talents, 1987's "RoboCop" is as savagely funny, insightful, thrilling, and prescient as it was when it splattered its way across movie screens over 35 years ago. From documentarians Eastwood Allen and Christopher Griffiths comes an exhaustive love letter to that film, its creators, and its fans in the form of "RoboDoc," a four-part look back filled with interviews, behind-the-scenes footage, and more.

"RoboDoc" is nothing if not thorough. Of course, we hear from the big stars of the film, including Kurtwood Smith, Nancy Allen, and Ronny Cox, as well as Clarence Boddicker's colorful (figuratively and culturally) gang of crazies, the good men and women of Detroit's police force, and the toady executives of OCP. But Allen and Griffiths have also managed to track down every street thug and hapless citizen of Old Detroit. Likewise, every possible crew department is well represented, from the effects and stunts to costuming and more. And everyone has a great story or anecdote to share.

And atop all of them are director Paul Verhoeven and "Robo" himself, Peter Weller. Verhoeven lives up to his reputation as an over-the-top maniac, all teeth and wild-eyed passion, but Weller proves he can match his director eccentricity for eccentricity. His language, peppered with jazzy punctuations of "man," Weller's self-effacing accounts of his quasi-Method approach to his character and his Don Juan-level exploits in his dressing trailer, are delivered with an intimidating intensity. He's absolutely as mad as Verhoeven, just less flamboyantly so.

Everyone's accounts of the production confirm that it was anything but pleasant and easygoing. Weller underwent hours of daily torture to suit up as the film's titular hero. Verhoeven's ever-present calls for "More blood! More blood!" led to painful experiences for anyone who had to be squibbed, including Allen. Explosions on location in the city of Dallas resulted in terror for the community and police intervention. It's a wonder that the only real injuries seem to have been a few broken ribs, some stray shrapnel, and lots and lots of bruises.

With all the heat and friction bringing the set to a boil almost nonstop, it's incredible how much love every single person involved has for the film and their memories of shooting it. They knew "RoboCop" would be something special, and the sweat, tears, and blood they shed to make it were backed by their dedication to making it so. Everyone owes up to their foibles and behavior, though perhaps without much apology. Surprisingly, only one story gets disputed, and it's so silly that you must laugh.

Two key voices are sadly missing from the documentary but for very different reasons. Miguel Ferrer, who portrayed Bob Morton, the corporate mastermind behind OCP's RoboCop program, sadly passed away in 2017 due to cancer. The other is special effect wunderkind Rob Bottin. Bottin, the genius behind "The Howling," "John Carpenter's The Thing," and Verhoeven's follow-up to RoboCop, "Total Recall," is notoriously press-shy and a legendary recluse. Had Allen and Griffiths somehow secured him for their film, it would have been nothing short of monumental.

Even without, "RoboDoc" is still a work of astonishing completism and thoroughness. For fans of the film, it is manna from heaven. At nearly five hours in length overall, it may be a bit much for the more casual "RoboCop" fan—perhaps the more pop-culture-palatable recounting found in "RoboCop's" "The Movies That Made Us" episode would better suit them—but despite all that screentime, "RoboDoc" never, ever bores. For a movie that stands so firmly apart from the other films of its era and has seen so many of its wild dystopian ideas come true, "RoboCop" gets the tribute and recounting of its madhouse production it truly deserves, as do the phenomenal talents who gave their all to bring it to life.

This devil of a reviewer gives "RoboDoc" 4.5 out of 5 imps.