Read how to win a free autographed poster for The Haunting of Molly Hartley, released Friday October 31st !!

We will be giving away both a poster signed by actress AnnaLynne McCord ("90201") and a really cool THE HAUNTING OF MOLLY HARTLEY glowstick !!!

Please send your name and address along with a photo of you in your Halloween costume to withoutyourhead@hotmail.com for your chance to win !!!

Official Website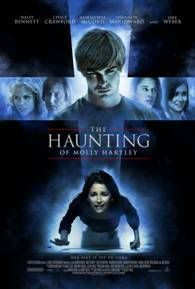 Synopsis

Her Past Is Yet To Come…..



In this tale of spell binding suspense, something evil lurks just beneath the lush surfaces of teenaged girl's private school world - and
it holds the rights to her very soul. Now, on the eve of her 18th birthday, Molly Hartley is about to discover the truth of just who, or
rather what, it is she is destined to become . . .

THE HAUNTING OF MOLLY HARTLEY, a horror thriller opening nationwide October 31st, stars some of today's fastest-rising young talent
including Chace Crawford ("Gossip Girl") Haley Bennett ("Music and Lyrics"), Shannon Marie Woodward ("The Riches"), Shanna Collins ("Swingtown") and AnnaLynne McCord ("Nip/Tuck")and marks the feature directorial debut of Mickey Liddell, producer of the highly acclaimed TV
series "Everwood" and "Jack and Bobby." The screenplay is by John Travis (the forthcoming "The New Daughter" starring Kevin Costner) and Rebecca
Sonnenshine ("American Zombie"). The producers are Liddell and Jennifer Hilton.