Please email your name and address and a question for this Thursday's guest former Misfits frontman Michael Graves to withoutyourhead@hotmail.com for your chance to win a FREE full size autographed poster !!!

Presented by Magnet,

TIMECRIMES will be opening next Friday, December 12.

West Hollywood, CA: Sunset 5

New York, NY: Sunshine Cinema

Austin, TX: Alamo Drafthouse South Lamar

The film will expand throughout December.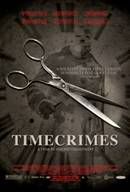 Official website: http://timecrimesmovie.com/

"PROBABLY ONE OF THE BEST TIME TRAVEL MOVIES OF ALL TIME. Truly a gem to behold." – Brad Miska, Bloody Disgusting.com

Lauded short film director Nacho Vigalondo makes his feature debut with this tense, unstoppable vision of science and natural law gone awry.

Hector (Karra Elejalde) is relaxing on a lawn chair outside of his new country home, surveying the nearby hillside through a pair of binoculars, when he catches sight of what appears to be a nude woman amidst the trees. Hiking up to investigate, he is attacked by a sinister figure whose head is wrapped in a grotesque, pink bandage. Fleeing in terror, he takes refuge in a laboratory atop the hill, where a lone attendant (director Nacho Vigalondo) ushers him in to a peculiar scientific contraption. He emerges what seems to be moments later, only to find that he has traveled back hours in time, setting in motion a brain-twisting, horrifying chain of events when he inadvertently runs into himself.

Drawing from the best traditions of classic science fiction and crime fiction, TIMECRIMES plays games with the genre and the audience, giving the protaganist a Russian-doll like shell of identities that are shed so often that Hector can be playing one of any number of whodunit archetypes at any given moment as he becomes increasingly more complicit in the complicated mess that he's trying to fix.

Says director Vigalondo: "TIMECRIMES comes from my love of classic science fiction and crime stories. Writers like James Cain, Philip K. Dick, or directors like Fritz Lang. The idea of building a tragic paradox with such few elements is my attempt to going back to the classics and trying to bring back something new."

TIMECRIMES (Spain) is the third film in Magnet's "Six Shooter Film Series," a series of six films highlighting the vanguard of genre cinema from around the globe. Preceded by LET THE RIGHT ONE IN and SPECIAL, three other films will follow over the coming months: Ollie Blackburn's DONKEY PUNCH (UK), BIG MAN JAPAN (Japan) and EDEN LOG (France).