Review of "Robot Wars"
by Jason Minton

Robot Wars (2016)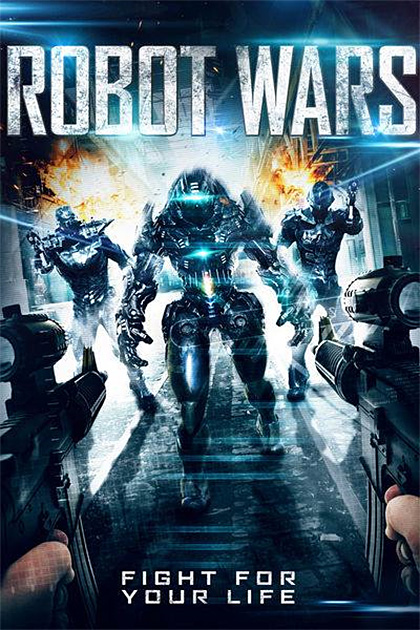 Surviving in a terroristic, dystopian future. Robot Wars reminds me a bit of a movie called Hardware from the early 90's. Only Robot Wars would be Hardware on a budget. That's saying a lot because Hardware didn't have much of a budget itself. Both movies are set in a dystopian future. Both center around technology controlling our lives. Hardware ventured into the political aspects of the world, while Robot Wars covers more of a terroristic view of the future.

Definitely a low budget movie from the actors to the "futuristic" sets. Robot Wars tried to do too much with limited resources, instead of focusing on the basics of good filmmaking. The premise or script alone probably wasn't the best one to select for a lower budget film. To their credit they did focus a lot on the humanity of the story they were telling instead of trying to dazzle us with bad CG. Oftentimes it seemed more like a movie about surviving in a country at war or a society in anarchy than it did anything sci-fi, futuristic or about a Robot War. Which did leave the title a bit misleading.

Shot with a lot of first person views, Robot Wars often times felt like watching a video game being played out on screen. Movies like 2005's Doom and 2007's 28 Weeks Later successfully pulled off short first person moments that felt like watching a video game. While other films like Hardcore Henry tried to play out an entire first person, action filled, video game on the big screen. With Robot Wars I felt like I was watching someone else play a video game that I just wasn't personally invested in.

One of the most pleasing things I found in this film was their use of CG actually looked good for the budget. Largely due to them limiting their use of it. The few robots actually seen in the film appeared to actually be props they made. We even got a guy walking around in a robot suit at one point, which just made me happy.

I can't rate Robot Wars higher than a 1/5 but I will say that I could see the soul behind it. I enjoyed several aspects of what they did. The premise just was not meant for a low budget movie.