Review of "Capture Kill Release"
by Jason Minton

Capture Kill Release (2017)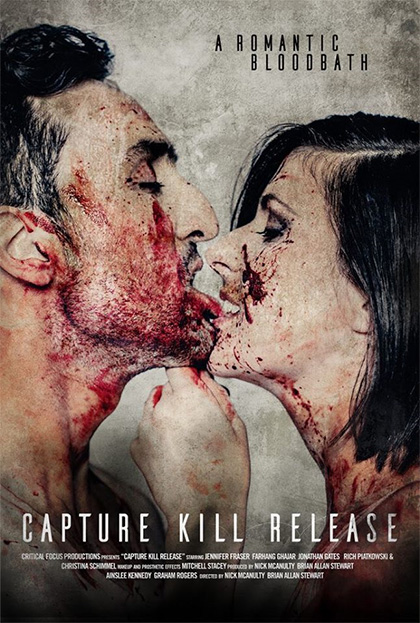 Another self filmed documentary style movie, Capture Kill Release is an in depth journey into the complexity of relationships. The film explores how a couple that's seemingly different in every way must work to get along. In it, we explore the depths of love and just how far we will go to fulfill our partners needs. Farhang plays the straight laced, almost boring, nerd of a boyfriend. While his girlfriend Jennifer, played by actress Jennifer Fraser is a bit more lively, vibrant and excitable. The two try to meet in the middle and figure out their life together. As is often true with real life, the nerd boyfriend goes just a bit further to meet his girlfriends needs. Because in this relationship Jennifer's needs aren't like a normal girls. Jennifer wants to kill someone.

I think I fell in love with actress Jennifer Fraser from the moment she picked up her first ax. The characters energy in the movie is contagious and Fraser plays it well. She plays crazy in a sane way and that's a huge compliment, as most do not. If you think Margot Robbie played crazy hot, consider this the less cartoony version of that. Better in my personal opinion.

Out of all the self filmed horror out there, this one is up there for one of the best. Besides the well known movies like Blair Witch, Rec., Paranormal Activity and the lesser known but very good Taking of Deborah Logan. I'll even throw Cloverfield in as one of the better ones but I know that's not something everyone will agree with.

Filmed well for the style, with two good lead actors and realistic looking effects. It was a nice overall horror. 3/5 - watch it for Fraser's performance if nothing else.